Choosing Generic Vs Branded Saxenda 6mg/ml
X
---
Generic medicines contain the same active ingredient and are equally effective and medically equivalent as the branded products but are available at a lower price. Generic manufacturers have to demonstrate that they are medically identical to the branded product - i.e. they offer the same quality, strength, stability and effectiveness.
Generic medicines are required meet the same standards of safety, quality and efficacy as the branded medication. To receive market approval from the European Medicines Agency and MHRA, a generic medicine must be 'bioequivalent' to the originator product.
---
Saxenda 6mg/ml
Weight management in conjunction with a healthy lifestyle
An injectable treatment for weight management.
A guide to Saxenda
What is Saxenda?
Saxenda® (Liraglutide) is an injectable weight loss drug for people with a BMI over 30. It's also available for people with a BMI over 27 with additional weight-related health concerns, like high blood pressure, diabetes, heart disease and raised cholesterol.

How does Saxenda work?
Saxenda® is similar to a natural hormone in the gut that helps to control your appetite and make you feel fuller.
How to use Saxenda
Saxenda® is an injectable medication that comes in a pre-filled pen. It needs to be used once daily. The pen itself is simple to use and the needles are very small, so it's relatively pain-free and easy to get used to.
Saxenda® can be injected in the abdomen, thigh or upper arm at any time during the day, with or without food. It's recommended that you take it around the same time each day, which will regulate the medication's effectiveness. 
You'll receive clear instructions with your first order, and the Saxenda® website has lots of useful information, too. 
How to calculate your dosage
Your treatment will start at a low dose which you'll gradually increase over the first five weeks. When you first start using Saxenda®, the starting dose is 0.6 mg, once a day, for at least one week. The dose will then be increased on a weekly basis by 0.6 mg until you reach the recommended dose of 3 mg a day.
This chart shows how your dosage will increase over five weeks: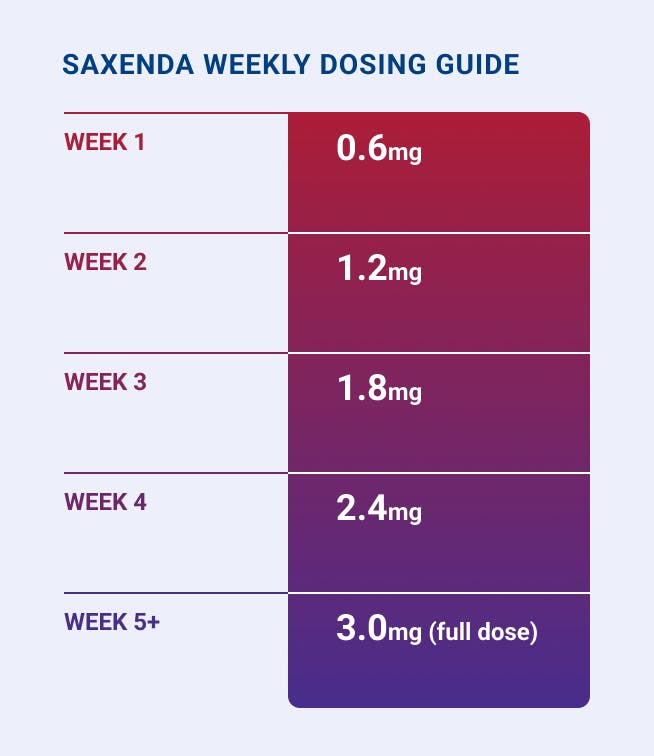 After 16 weeks, we'll review your weight to see how much you've lost in that time. For us to continue prescribing Saxenda® to you, you'll need to have lost around 5% of your initial body weight and submit your results when we check in with you.
How effective is Saxenda?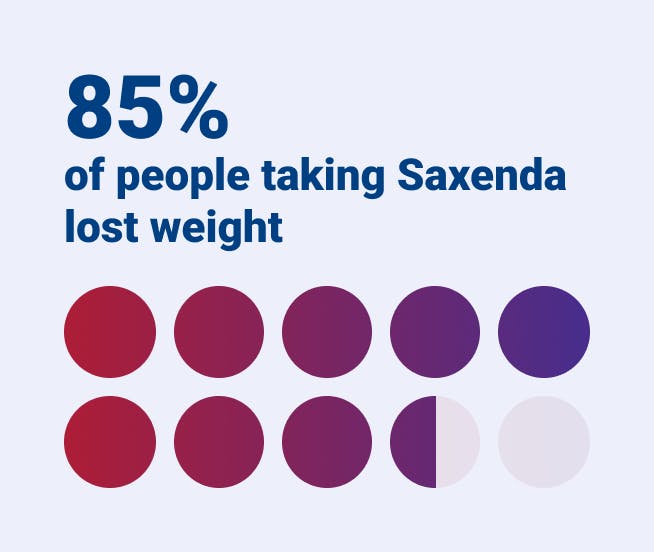 Saxenda® is one of the most effective weight loss treatments available. Studies have shown over 85% of people using it have lost weight. 60% of participants lost more than 12lb (5.4 kg) and 33% lost more than 23lb (over 10kg) over a year.
How to order Saxenda
First time orders
When you order Saxenda® for the first time, we'll provide you with two pens that'll cover the first 25 days of your treatment,It's important to store these in a refrigerator between 2–8°C. You will also receive:
Needles for your pen
A sharps bin
An instruction leaflet
A dosing chart
Extra tips that can help you to lose weight

To get started, complete a consultation for an injectable weight loss pen and select the starter pack.
After your first two pens, you'll move on to a continuation pack, which contains five pens. Here's a chart that shows you how long each pen lasts as your dosage begins to increase: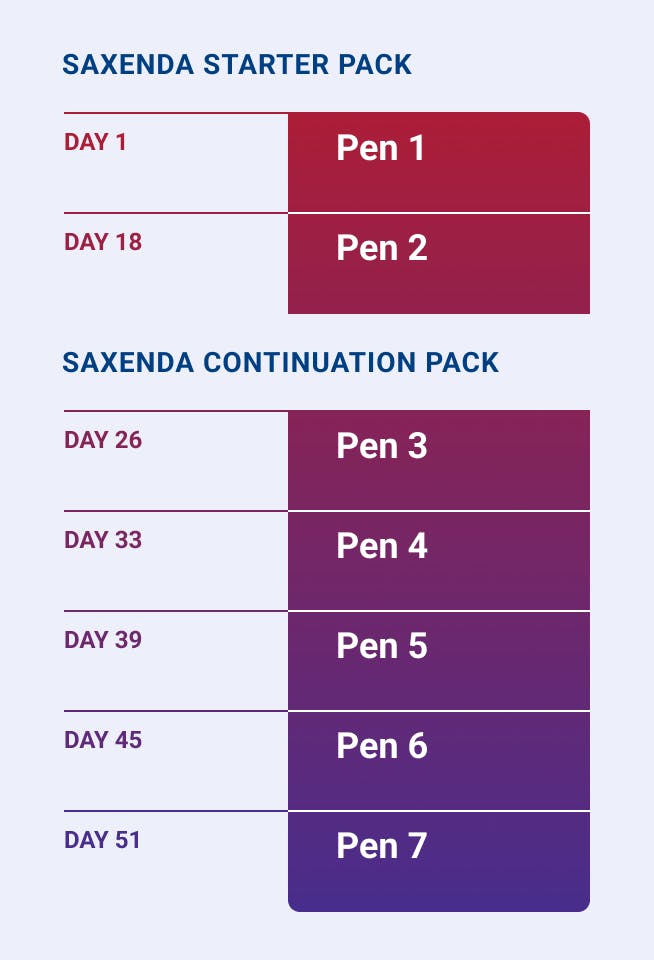 How to re-order Saxenda
When you've been using Saxenda® for 3 weeks, it's time to think about ordering your next continuation pack from us. At this time, we'll send you a reminder to log on and complete a weight loss consultation. 
If all is well, we'll prescribe and send you 5 further pens in temperature-controlled delivery packaging. It's important to store these in a refrigerator between 2–8°C. This pack will last you 30 days. As you start your last pen, remember to return to MedExpress to reorder supplies so you can continue treatment uninterrupted.
Once you've been taking the maintenance dose for 16 weeks, we'll need to reassess your weight to make sure we can continue to prescribe to you. Under the terms of the Saxenda® licence, we need to see 5% weight loss from your initial weight.   
Where to dispose needles
You'll receive a sharps bin with your first order. This is a special waste bin that's used to store sharps material, like needles, until it can be safely disposed of. When full, your sharps bin can be collected for disposal by your local council. Once you've started treatment, you'll be able to purchase further sharps bins with new orders.  
About your Saxenda delivery
Saxenda must be stored between 2–8°C. Outside of this temperature, it'll only last 28 days before it can no longer be used. We'll send your prescription in temperature-controlled packaging that's designed to keep your Saxenda® at the correct temperature during delivery. To ensure that it doesn't exceed its storage temperature, it'll arrive within 48 hours, and need to be put straight into the fridge once you have it.
Side effects
Like all medicines, Saxenda® can cause side effects, including nausea, vomiting, constipation and diarrhoea. Not everybody experiences them, but if you do, they usually settle after a few weeks once you get used to the medication. Your dose is increased gradually to reduce the chances of this happening. Please refer to the patient information leaflet for more information regarding side effects.
Alternatives
The Saxenda® pen system is very easy to use and virtually painless. However, we understand injections aren't for everyone, so we also prescribe weight loss treatments in tablet form.
Patient Information Leaflet
Always read the patient information leaflet before starting treatment.
Saxenda 6mg/ml FAQ
How do you inject Saxenda?
Saxenda is a daily injection that's given once daily in the arm, leg or abdomen. It uses a very small, fine needle for a near-painless injection just below the surface of the skin. The Saxenda pen comes ready to use, with a button that delivers the right amount of medication for your treatment stage.
How long does a pen last?
At first, a Saxenda pen will last longer, because you start on a low dose and gradually increase it over a period of weeks. Once you've reached the full dose, a pen will last six days. We take how long your pens will last into account when sending them to you to make sure you can continue treatment without interruptions.
How much weight can you lose using Saxenda?
Saxenda is one of the most effective weight loss treatments available. When used alongside a modified diet and exercise, studies have shown over 85% of people using it lose some weight. 60% of people lose more than 12lb (5.4 kg) and 33% lose more than 23lb (over 10kg) over a year.
How long can I use Saxenda?
We need to assess your weight once you've been taking the maintenance dose of Saxenda® for 16 weeks. If you've lost 5% of your initial weight at that assessment, you can continue using it for up to two years.
Will you check in with my progress?
Yes - we'll check in with you for a 16 weeks review of your treatment and to record your weight.
Is Saxenda a licensed weight loss medication in the UK?
Yes, Saxenda is licensed for weight loss in the UK.
Recent Saxenda 6mg/ml Reviews
Delivery
1st Class (signed for)£2.90
Estimated Wed 29th Nov
Special Delivery Next Day (by 4pm)£5.95
Guaranteed before 4pm Wed 29th Nov
Special Delivery Next Day (by 11am)£13.95
Guaranteed before 11am Wed 29th Nov
Same Day Courier (London)£4.95–19.95
Today, price depending on distance
Post Office Collection£3.95
Collect locally Wed 29th Nov (estimate)
Delivery to remote Scottish Highlands & British Isles may not be guaranteed and may take longer than 1 day. Learn more
Discreet Service
Plain packaging
guaranteed
Option to collect from
your local Post Office™
10,500+
local branches
How our service works
It's quick, easy, and safe to order from MedExpress — your fully regulated, London, United Kingdom based online pharmacy.
Start a free 2 minutes online consultation with simple questions about your health.
Our UK medical team will then recommend a treatment and issue a free prescription.
Your treatment will be sent direct from our London pharmacy in discreet packaging.
Our qualified team
All our doctors and pharmacists are based in the UK and are registered with the General Medical Council and General Pharmaceutical Council.
Dr Clare Morrison
General Practitioner (Prescriber)
License:
NPI number:
GMC: 3441561
GPhC: